Soundbranding
In order to be distinguished in the background of the communication flow, the brand must be original and authentic, including its audio component. In combination with other communication elements, audiobranding works for the brand uniqueness and closely connects the audio perception with the product.

Sounbranding can be built into at the stage of the brand positioning. Sounding can be an important brand component built into at the stage of strategy. In particular cases, a brand can be based on sounding. Also, audiopositioning can be developed in the frameworks of the 5 SENSES workshop (if relevant). In addition, the sound can be one of the critical product attributes having significant role in brand positioning perception in general.

Audio logo can become one of the corporate style constant. Logo sounding multiplies its memorability and recognizability. In addition, accompanying sound of the branded pictogram animation becomes an integral part of the corporate style.

At the stage of the brand development, audiobranding is relevant in the majority of cases. It can be said that the corporate style adaptation, including sounding, to various channels of presence, including HR support (for example, corporate anthem), customer interaction (for example, music for hot line) and, of course, promotion (radio and video advertising).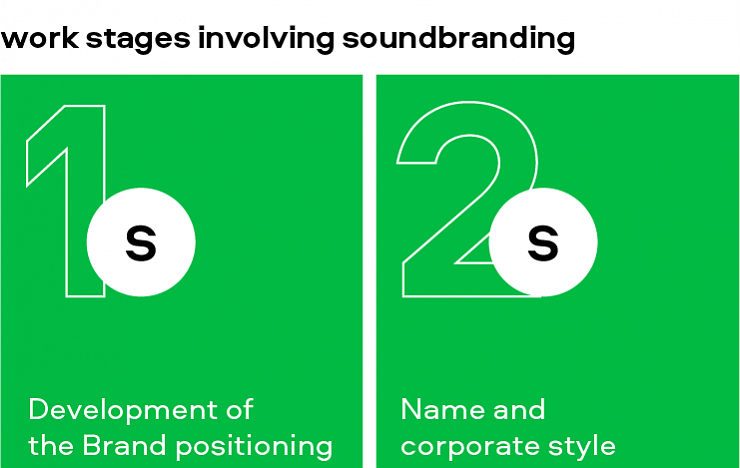 SOUNDBRANDING PRODUCTS:

– Audio logo;
– Icons/Animation;
– Jingles;
– Music for hot line;
– Voice of the brand;
– Song of the brand;
– Brand melody;
– Playlists;
– Music for TV and radio;
– Music for synchronization;
– Artists.