The international jury of one of the most important design awards of the world — Red Dot — appreciates the works of Depot WPF branding agency for a number of years. But in 2016 we got coveted "red dots" in Communication Design category for all our projects that we had submitted to the contest.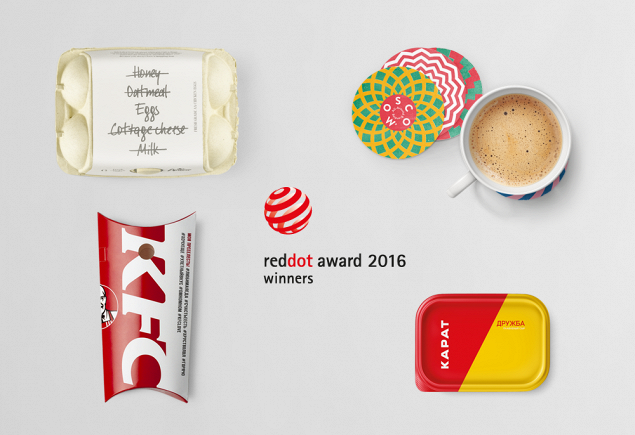 "I never get tired of repeating, that the participation in the prestigious creative competitions makes our industry stronger. Ambition, creative breakthroughs, competition, the taste of victory — all these factors strengthen muscles and faith in yourself. Therefore, I heartily congratulate Russian winners!" — says Depot WPF managing partner and the co-president of Association of branding companies of Russia Alexey Andreev. This year Red Dot jury members awarded 10 projects from Russia.
The right to place the side of your product with the lable of Red Dot Design Award is one that monsters like Apple and Audi had to fight for: it is the most anxiously awaited event in the world of design. From 1955 designers and production companies are annually awarded for high quality and outstanding achievements in the design of consumer goods. The competition is held in three categories: Product Design, Communication Design, Concept Design. Works that have already been awarded with "red dots" now are exhibited at Red Dot Design Museum in Essen, which has the world's largest collection of the modern design's achievements.
Communication Design category's jury pannel includes outstanding creative and art directors from all over the world. They assess the achievements in the field of packaging design, identity, advertising, interactive media and sound design. According to the orginizing committee, this year there were projects submitted from 46 countries. But less than 10% of submissions received the coveted Red Dot Winner award.
The packaging design of Moscow soft cheese factory "Karat" and KFC rebranding developed by Depot WPF for Russia, Kazakhstan, Belarus, Azerbaijan and Georgia are among the winning projects of this year. Both works have received Red Dot awards, which can be compared with "gold" awards in other festivals. Another two projects — Moscow Identity and Shopping List — got the highest Best of the best award. This mean that these projects stand for the main "trophy" of the contest — the grand prix. His owner will be named at Red Dot awarding ceremony that will take place in November in Berlin. We keep our fingers crossed!