Piala Stories
Add to Favorites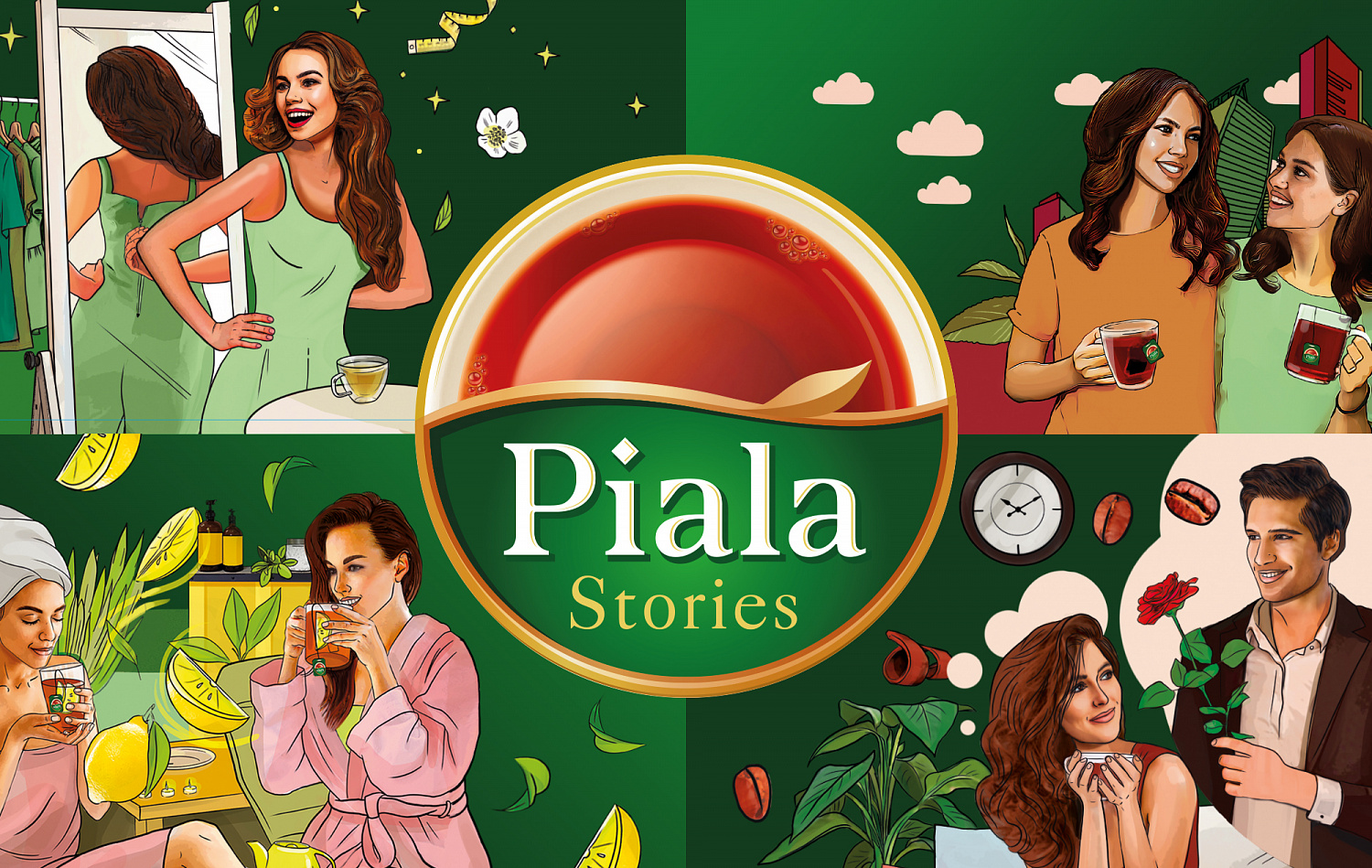 The Piala Gold brand has already had a twenty-year history and the face of a traditional tea in the market. In order to conquer new territories and grow, it was decided to separate part of the line into a sub-brand - Piala Stories, designed to attract consumers of more premium tea brands and give the attributes of modernity and relevance to young people.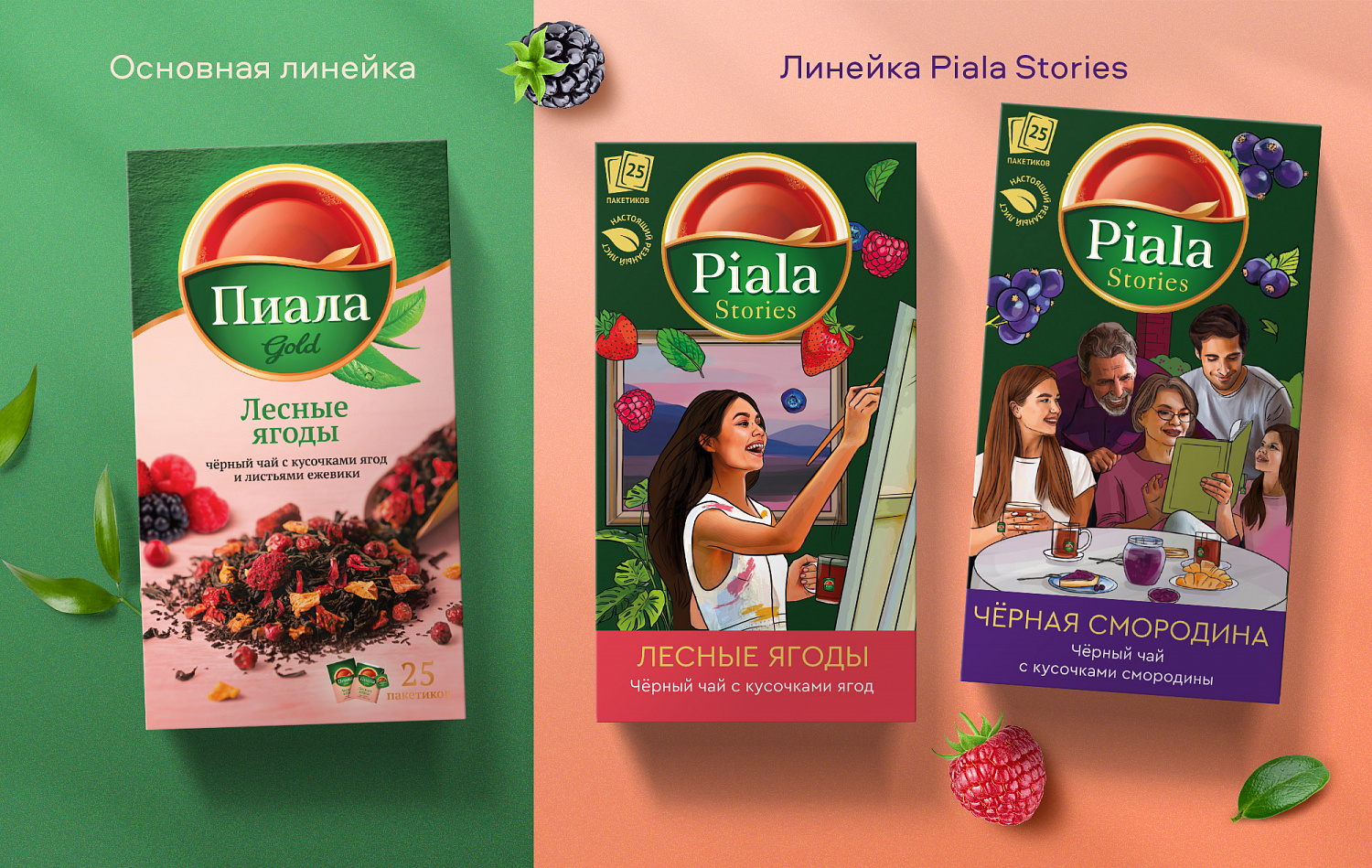 The task of our agency was to develop a creative concept for the sub-brand of Kazakh packaged tea Piala Stories. The concept involves illustrating vivid storytelling from the lives of people on the packaging, which convey a special mood and emotions. At the same time, it was important to reflect the navigation of the product (the color identity of the type of tea, taste, naturalness).

The Piano Stories collection creates stories where there is time for warm relationships and sincere communication, despite the dynamics and fuss. The real value of any relationship is achieved only through communication. And it doesn't matter live or online, the main thing is to tell each other your stories and share vivid emotions.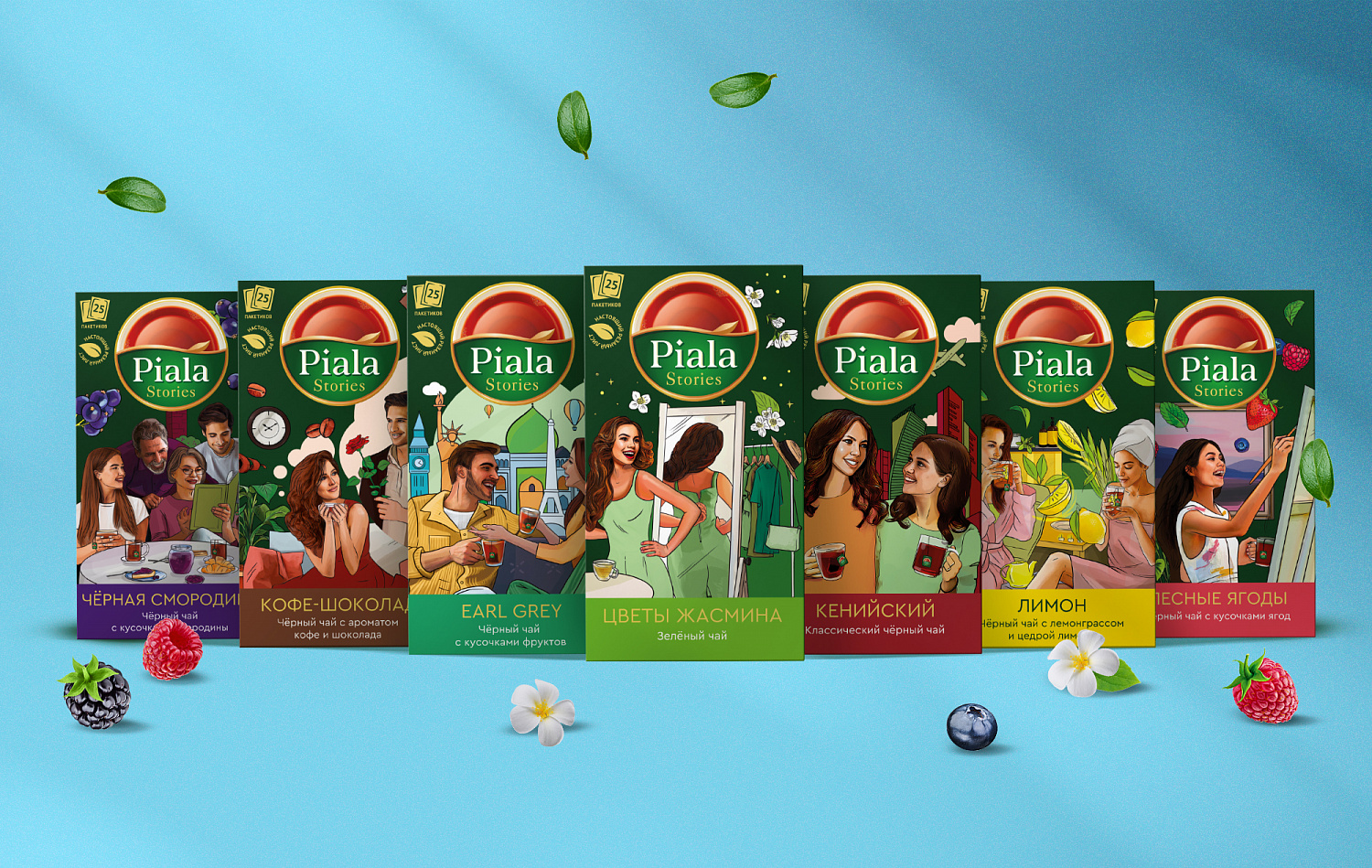 For each of the seven rich flavors: Kenyan, wild berries, lemon, Earl Grey, coffee chocolate, black currant, jasmine flowers, we have developed own story and illustrations:

Kenyan:
Sometimes I want to sit with my mother in the kitchen as in my childhood, talk about the most intimate things and drink a cup of freshly brewed black tea. And then some 5 minutes and everything that seemed difficult and impossible becomes simple and possible.

Wild berries:
Having seen the city of dreams in a dream, she woke up, brewed black tea with pieces of berries and went to the easel ... a little more and everything that had recently been dreams turned into a picturesque picture in reality.

Lemon:
How important it is to find moments for warm meetings with your loved ones: be it a sister or a friend. Time over a cup of black tea with lemongrass and lemon zest flies by quickly and imperceptibly. One cup is hardly enough for you to chat about everything in the world.

Black currant:
Sometimes it's great to come to my parents in the evening, taking black tea with pieces of currant, brew it with stories about how everyone had a day, and then give yourself up to memories, flipping through an old family album.

Earl Grey:
In whatever corner of the world you are, Earl Grey black tea will always cheer you up, set you up for a new day full of discoveries. And with whom you will go on your unforgettable journey – decide for yourself.

Black tea with coffee and chocolate flavor:
When you get home after a date, you replay every happy moment in your head. Cozy up on the couch with a cup of hot tea with the aroma of coffee and chocolate, just like in your coffee shop. And you start counting down the time until a new meeting.

Green Tea Jasmine Flowers:
It's so familiar: going to a party, trying everything on and finding that favorite dress that didn't button up. Thanks to tea with jasmine in the morning, long-delayed outfits will easily emphasize the slimness of your figure.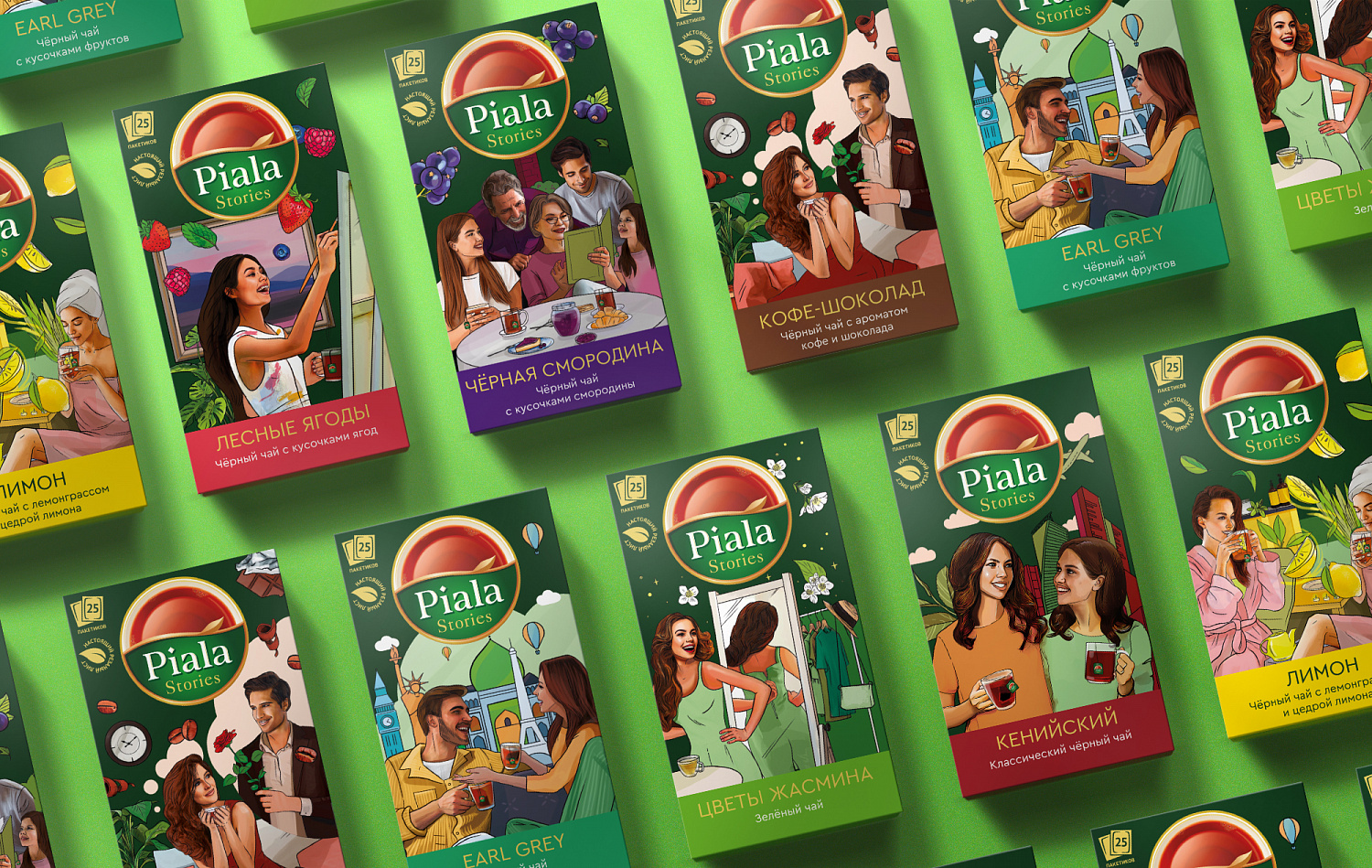 Project Team:

Zhenya Struk – Art Director,
Anastasia Tretyakova – Creative Director,
Vera Turabova – Business Development Manager,
Alyona Razzhivina – Project Manager,

Alexey Andreev — Managing Partner,
Anna Lukanina — Managing Partner,
Ksenia Parkhomenko — Executive Director,
Daria Vedernikova — Director of Communications and PR,
Daria Mukhina — PR Manager,
Ivan Krapivin — digital Director.