Дата публикации: 29.05.2015
«Nestle Russia» introduces the new product of 48 KOPEEK brand – ice cream for milkshakes. Packaging design was developed by Depot WPF branding agency.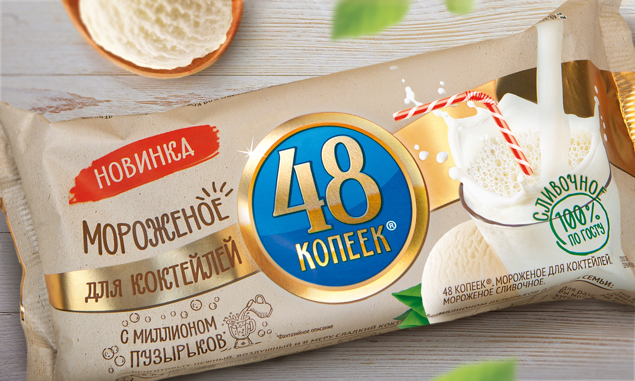 48 КОПЕЕК is a legendary brand that several generations are familiar with and that has became the symbol of traditional sweet dainty for all ages.
The new ice cream that helps you make a milkshake easily is a logical expansion of the 48 KOPEEK product line. It's never been easier to make a milkshake with «millions of bubbles» at home – the step by step recipe is printed on the side of the package.
«While developing the packaging design of the new SKU we wanted the package to stand out from the basic product line of the brand and to be notable in the freezing compartment. When someone is choosing an ice cream for themselves and their families one pays special attention to the naturalness and purity of the product. And our design reflects these qualities», — the creative director of Depot WPF Alexey Fadeev notes.
48 KOPEEK for milkshakes has already appeared in supermarkets all over the country, and in Moscow and Saint Petersburg an advertising campaign was launched.