Vera Zverera, Art Director of Depot told a rebranding story across the packaging world, whose influence is even going beyond the expectation of its own designer.
The story does not have an uncommon beginning. Bryansk Dairy Factory, a renowned local milk producer, came to Depot branding agency, saying they want to rebrand Milgrad, one of their dairy brands, with something new and fresh to make their dairy products "stand out" on the shelf. This is not an easy task, as milk products account for over 22% of the total FMCG industry in Russia. Therefore, the first step is to understand what kind of novelty the clients really want.
Three options were put forward:
-First, an updated version of the original package. It will be more modern to some degree, but the basic idea won't be changed.
-Second, giving a touch of technology, the drawing shows the structure of the big city and milk factory;
-The final option goes to a completely different direction--cuteness. The little creature with big round eyes and triangular ears is known to be a milk lover (maybe goat's milk is better for its health) and is adorable enough to build an emotional connection with any people who see it.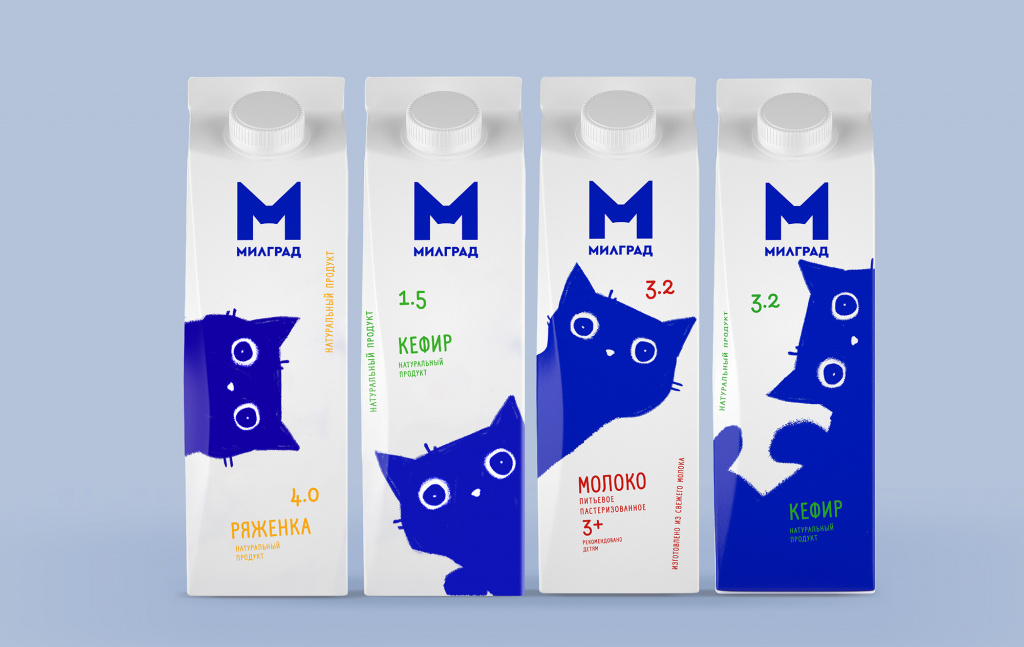 —Why a Cat, not a Cow?
—"Cat is a creature that can establish a cosy atmosphere, which makes you feel safe and comfortable." When talking about the reason for choosing a cat, Vera Zverera cast a warm look at her cat Brunghilde, who was lounging besides her owner, with her furry tail patting the sofa from time to time. "I think it can bring people kindness and happiness, and this is what both us and the Milgrad brand want to achieve. What's more, cat is a well-known milk lover, although people are not suggested to feed them milk now."
After the cat idea was chosen, Vera wanted to make the design more interesting: "If you only see the cat face from the front, you will think the body is simply hiding from the sight. So I drew the body and tail of the cat on the other three sides of the milk box in a continuous way, and people can turn the box at different angles and line them up to make the puzzle of a whole cat." The pictures captured from the milk shelf are amazing: this playful blue cat is posing vividly among all other boxes, making a cartoon scene where all the eyes would be attracted by this lovely protagonist in the centre.
In the third month after the new launch, the cat influence went accross the national border. Thanks to social media, firstly Vietnamese, then Japanese and Korean people started to notice and fall in love with this cute blue creature. It went viral especially on the Japanese twitter where related illustrations, animations, embroideries and even cosplays appeared.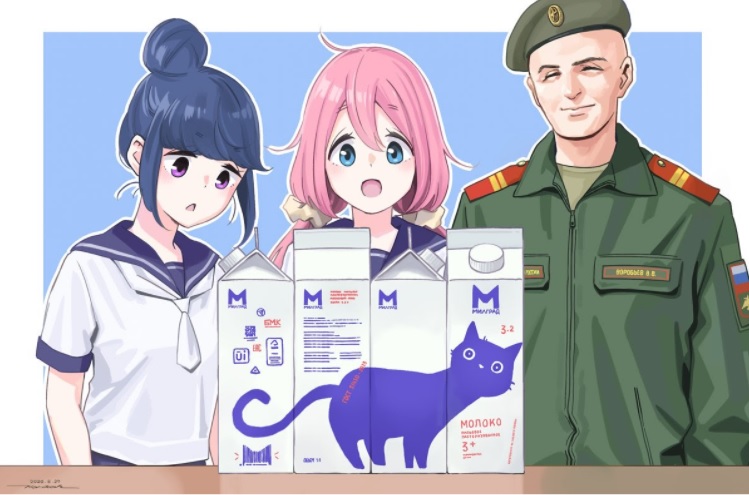 The full version is
here
.