Zaodno
Add to Favorites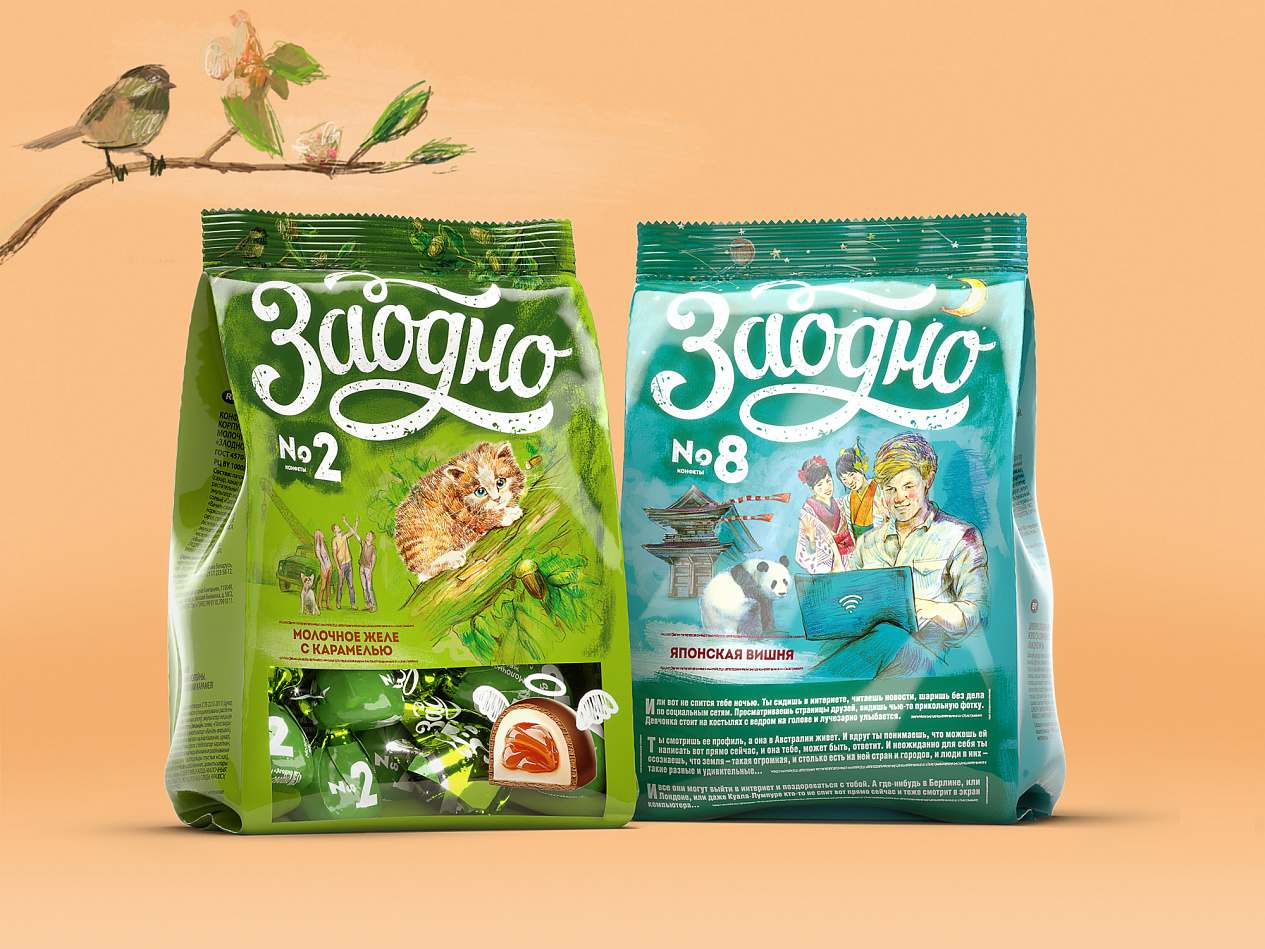 Depot has been working with the brand portfolio of the Belarusian confectionary factory Kommunarka since 2014. During this time, 2 new brands were created — chocolate Plan B and sweets Zaodno, and beloved by many brands Alenka and Sorvanetz acquired a modern vivid appearance. We want to share the details of the integrated project for the development of the brand Zaodno.

The confectionary factory Kommunarka supplies products to Russia, the USA, Israel, Georgia, Kazakhstan, Turkmenistan, Mongolia, Germany, the Czech Republic, Cyprus, and the United Arab Emirates. This is one of the largest enterprises in Belarus with a long and interesting history. It began with the appearance in 1905 in Minsk Bakery confectionery products of Georgiy Vikentievich Rachkovsky. In 1914, production level allowed the bakery shop to grow into a full-scale confectionery factory.

Over the next hundred years, the factory carefully preserved the recipe for chocolate and sweets, beloved by many generations, and invariably confirmed the quality of the products with a large number of awards, diplomas and prizes, which were noted in different years. In 2016 the factory Kommunarka received a silver medal of the Prodexpo exhibition in the nomination «Best Product» for the developed formulation of bitter chocolate Plan B with the taste of cherry and pepper. Due to the long history of the Kommunarka factory and the observance of traditional production recipes, most of the produced packages of chocolates and chocolate looked quite traditional for the category and was not interested for the young audience.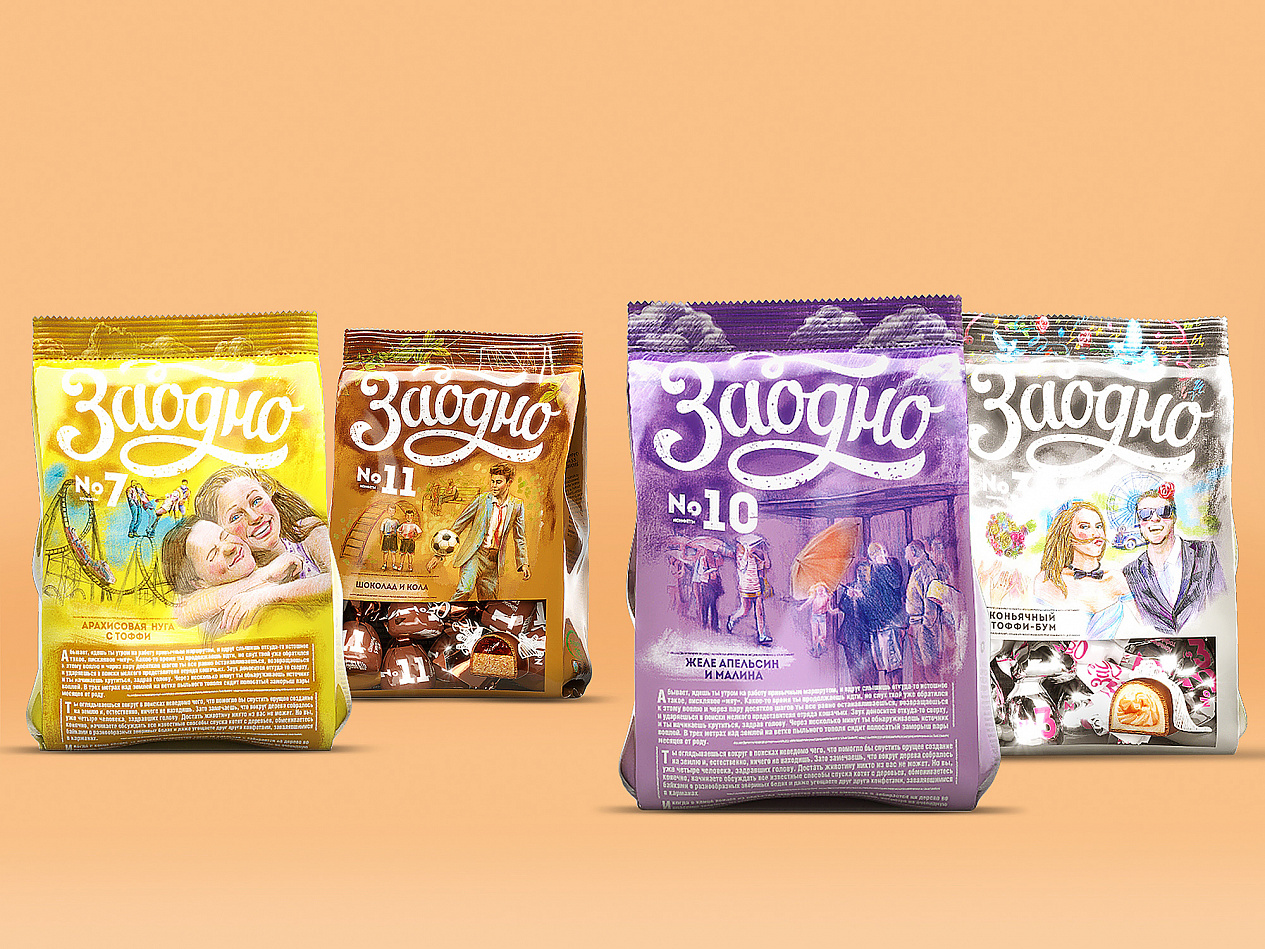 Depot was tasked to develop for Kommunarka a new brand of sweets, designed to attract the attention of youth in Russia, Belarus and other CIS countries. The new brand also had to demonstrate the innovative products of the Kommunarka factory, ensure the expansion of the range of chocolate sweets by creating new tastes in the assortment.

The project is unique because the brand was developed along with the development of the form of sweets, recipes and flavors. Technologists and marketing experts of the confectionery factory worked all together, and that allowed to create the most interesting and closest to the consumer product. As a result, the brand Zaodno was created, and in plans there are 13 kinds of chocolates in chocolate glaze with different fillings to produce.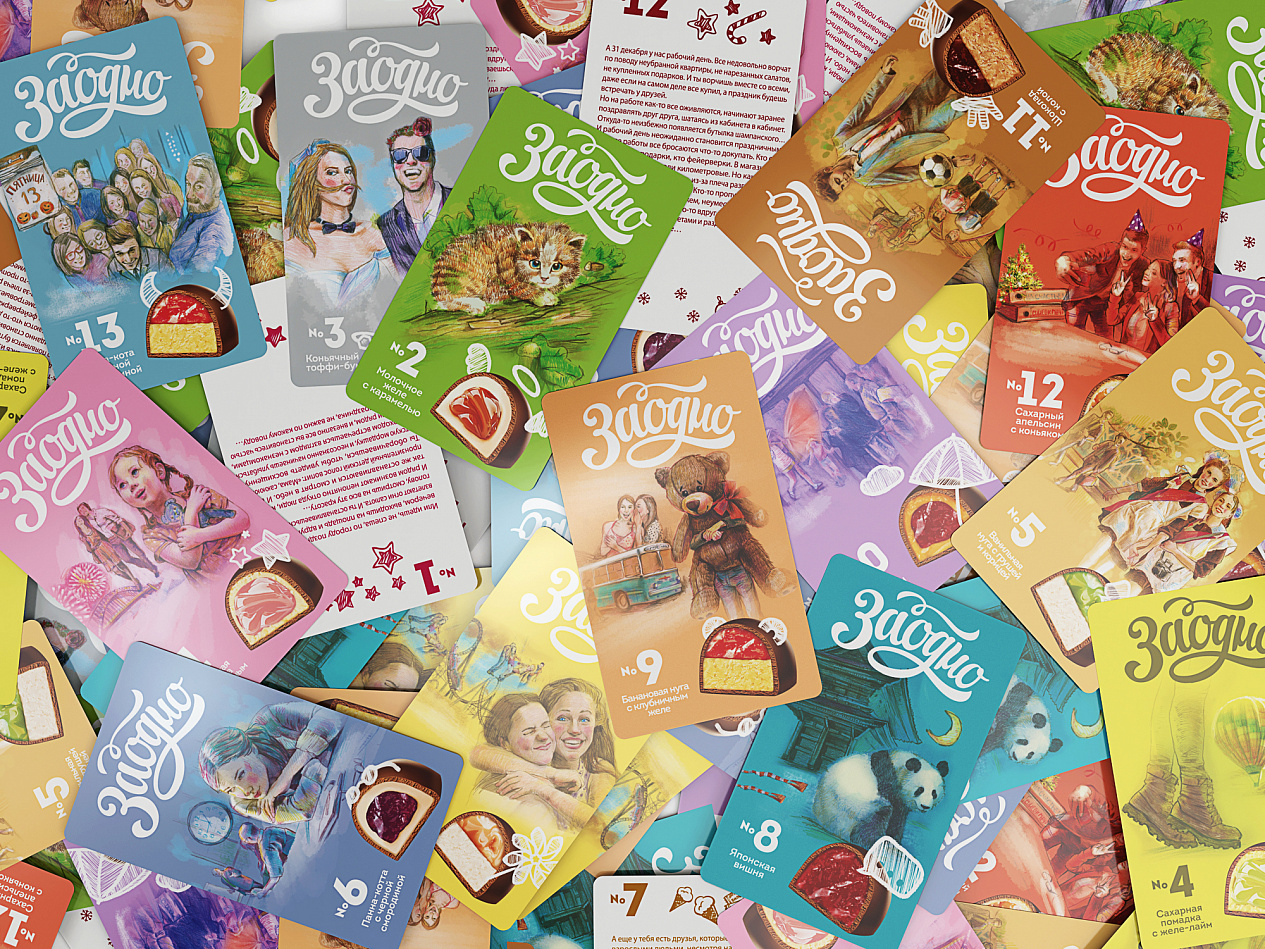 Each type of candy has its own illustrated story, placed on the package and duplicated on a separate card-insert, enclosed in a group package. The stories are written in a simple, benevolent and slightly ironic manner.

All stories are numbered — from 1 to 13 — and the number is displayed on a group package, and on a candy wrap, which increases brand awareness and allows you to sell sweets «by weight», making it easier to choose for a consumer. For each story, marketing manager and technologists of Kommunarka have chosen their own recipe — the filling of sweets in one way or another corresponds to the history described on the package.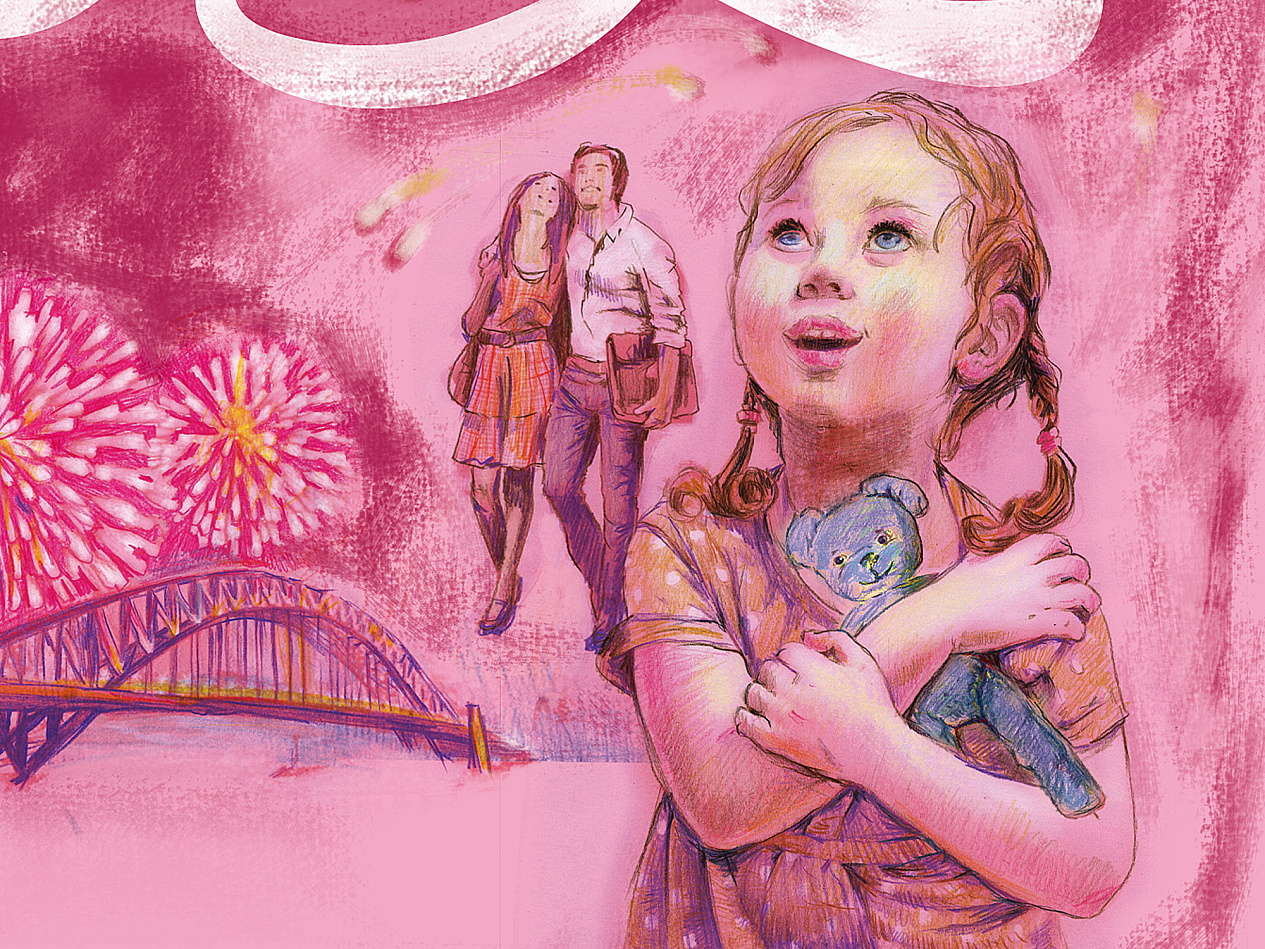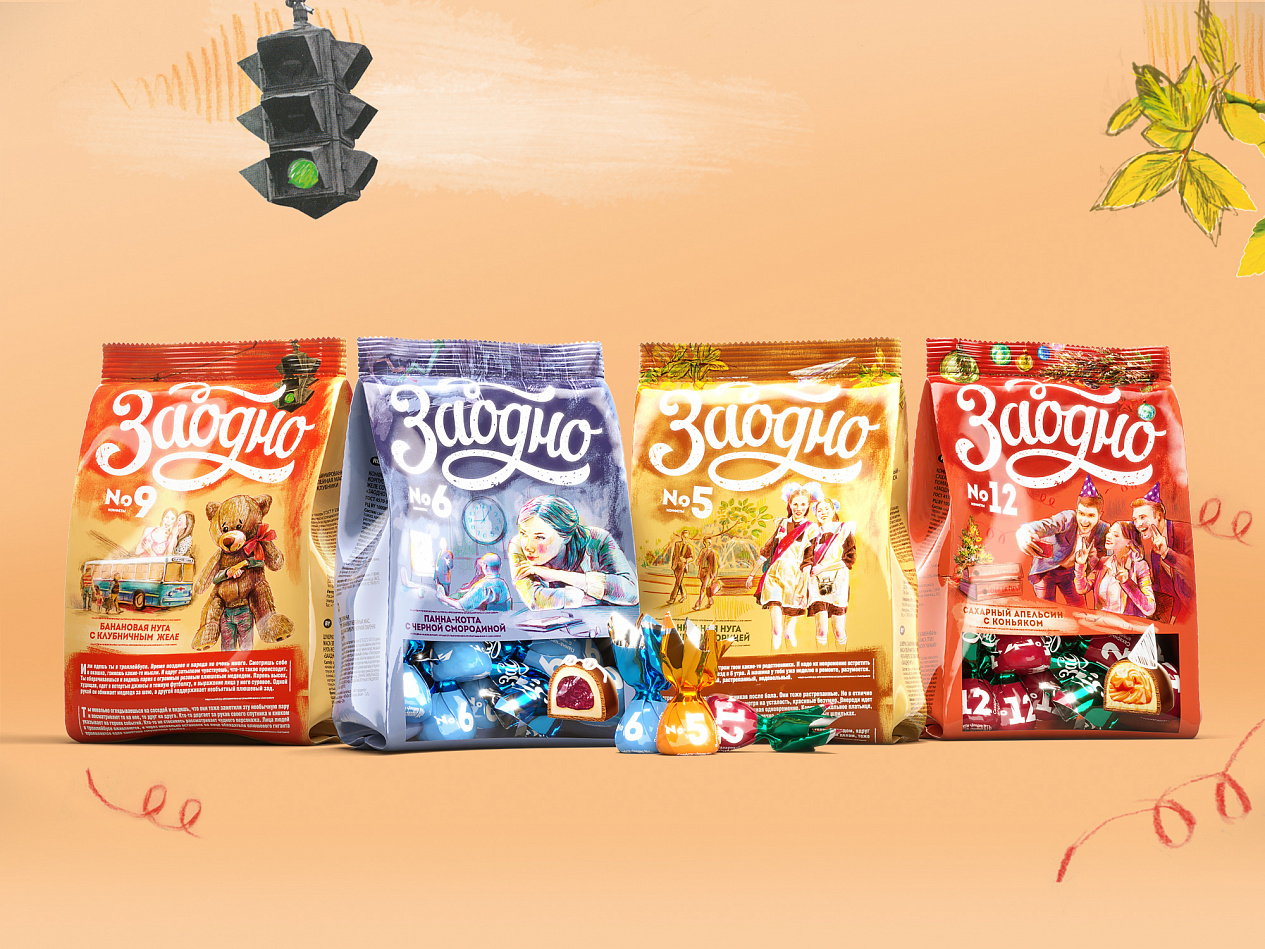 Anastasia Tretyakova, Creative Director of Depot: «In this era of individualism and disunity, this topic seemed very interesting and important to us. Ideas for packages were born from the memories of acquaintances, friends and colleagues, from what we read in social networks. We described a variety of life situations in which people become closer to each other and share the mood, and the experiences of each other.»